Answers

Feb 12, 2016 - 02:12 AM
I am guessing you mean Antenna Structure Registration (ASR) numbers. To get ASR numbers for the towers, they need to be registered with the FCC. You would start by going to the
FCC ASR registration page.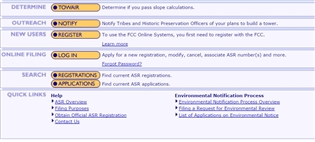 You will need to apply for an FRN first if you don't have one. All of this is free. What isn't free is that you will need a 1A or 2C survey confirming the specific latitude/longitude of the towers. You will also need to know the height and ground elevation.
We typically advise tower owners to file for the ASR numbers as it is the best free marketing for your tower that there is. Every wireless carrier uses FCC ASR data when reviewing and designing search rings.
See "Obtain FCC ASR Registration" for more details.