Answers

Jul 08, 2015 - 08:21 AM
In many cases an antenna owner on a tower is not willing to reduce or cut service to their customers during daylight or peak evening hours. The antenna owner is willing to turn the antenna down or off at night, thus affecting the service of fewer subscribers (sorry night owls). The most common night time work hours are
midnight to 5 AM
, by 5 AM broadcasters want to be back up and on the air.
Climbers wear head lamps on their hard hats at night.
Overall, the biggest safety hurdles to overcome regarding nightwork are, fatigue, cold and dropping tools (headaches). Dropping tools off a tower is potentially deadly to ground dwellers and falling tools can also damage tower mounted equipment and ground equipment on the way down. The cold temperatures can make night work harder, it may be a nice break from summer heat to be on a tower at night but fall, winter and spring can be brutally cold, then combine that with the fatigue. Usually tower workers will work all day before the night job or work the night job and the next day. Worst case scenario a tower worker will work all day, sleep a few hours, work the night job and work then next day as well.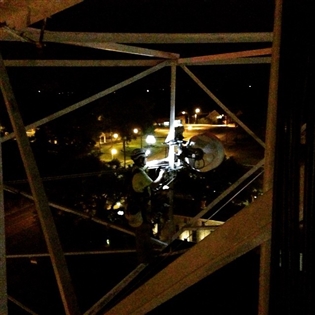 Source: